Star Alliances Contest Begins Tonight
Star Alliances press release about a contest that starts tonight.
---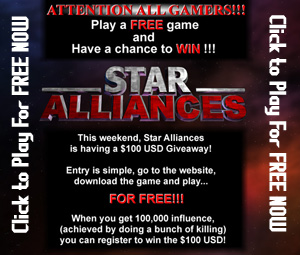 We have started a campaign that will be attracting players from all over. Tonight, you should join in the fight and see the kind of battles that are fun and easy to be a part. Find yourself engulfed with opportunity to become a powerful commander. Pick a side, join the fight.
You may be asking, why now? The answer is simple. We have been working hard to make Star Alliances the game of choice in these hard economic times. We have come to understand that employment is not something readily available. Therefore, we made Star Alliances and the power of the fighter unit something everyone could do and get really good at using. The fighters of Star Alliances are challenging to the veteran players. They are not meant to be the little piece of garbage you get as a starter unit. These units are units that every player uses EVEN after they have their cruisers running around. Nothing better than getting 20,000 influence from a single critical hit. Remember the movie with the lone fighter pilot destroying a massive spacestation? Well that scenario is VERY real in this game.
So. Take the shot. Become a part of the legacy of Star Alliances.
OMGN is not responsible for any blog post content on this site. The blog post author is responsible for all blog post content.
You can only comment if you are a
logged in
user. If you don't have an account, why don't you consider
registering
for one?
There are currently no comments for this blog post. Be the first one to comment!